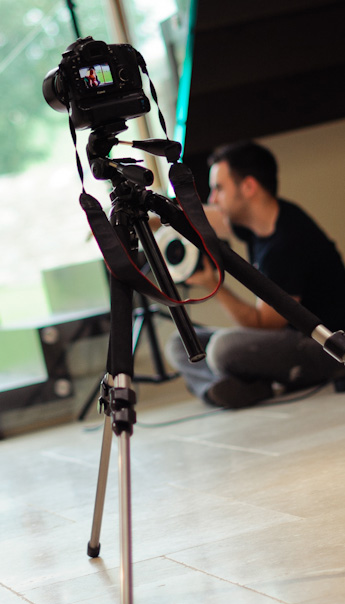 So, it's Sunday 2nd of September and the last few weeks have been building up to what was intended to be an epic, full day glamour shoot on an incredible Sunseeker yacht. The 10 day weather forecast was showing a single day of grey cloud looming somewhere around the day of our shoot. The Saturday was perfect, and the whole team was buzzing to get out on the water the following day. Waking up on the Sunday my heart sank as I looked out the window to see typically grey, miserable British weather. So the contingency plan was put in to action! The owner of the yacht kindly opened up his beautiful home for us to escape the onslaught of "Sunny Devon" for the day.
Our morning kicked off at the studio with the arrival of newly signed Page 3 model, Courtnie Quinlan, feeling a bit worse for wear from her travels on the London tubes but still excited for the day ahead. I met our 2nd model for the day, Rheanna Duffield, at a recent test shoot and really liked her look so I wanted her to get involved on the shoot as well. A quick train journey from Bristol, and both girls were in the styling chairs getting their pre-shoot makeup and hair looks created by 2 of my talented stylists Rosie Finnigan and Steph Davis.
We loaded up the cars, taking care not to leave any equipment or models behind and set off to the very rural location. We had a lot to cram in to a single day of shooting, but the team pulled through and we all had an awesome day with lots of behind the scenes photos and video being captured by my friend and fellow photographer Dom Moore. Click through to Vimeo to watch the final video in HD, and keep an eye out for the finished photos to be published soon...
Credits
Photography: Chris Conway
Assistant: Dom Moore
Model: Courtnie Quinlan
Model: Rheanna Duffield
Makeup Artist: Rosie Finnigan
Hair Stylist: Steph Davis
With special thanks to Damon and Jack